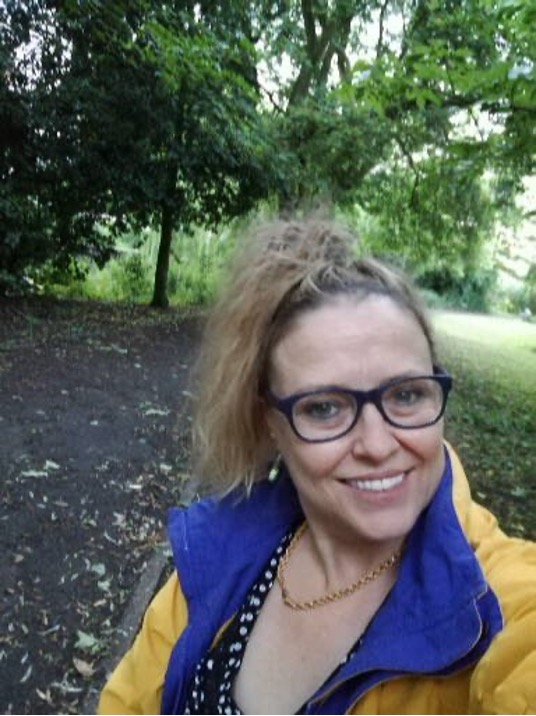 Michelle Cairns
Specialist Team
I am currently undertaking a PhD in Psychology in nature connectedness and behaviour change at University of Derby. Undergraduate qualifications include a First-Class MSc in Physical Activity and Public Health (2016) and I also hold a bachelor's degree in Physical Education from University Witwatersrand, Johannesburg, South Africa (1993) and a BSc Health and Social Care, from York St John University (2013). I have developed my own social enterprise - Jorvik Walking, delivering Nordic and fitness walking. Employment history includes full and voluntary roles at York local authority being part of the HEAL Exercise Referral Scheme as a co-ordinator (Sport and Active Leisure Team) and holding a Level 3 Diploma in Exercise Referral. On the newly developed Yorwellbeing Team, my role of Public Health Wellbeing Officer included smoking cessation counselling and delivery of the NHS Health Check as well as co-working on the Ecotherapy Project at St Nicholas Fields Nature Reserve delivering Nordic walking. I have been involved in voluntary work in the community at Woodlands MS Resource and Respite Care Centre (Woodlands MSRRCC) and York Blind and Partially Sighted Society (YBPSS). Memberships include Bipolar UK, Chartered Institute of Management of Sport and Physical Activity (CIMSPA), Nordic Walking UK, York St John University Converge Evaluation and Research Team (CERT), a group of researchers who have been trained in various and creative research methods, with lived experience of mental health issues. During Covid-19 I published blogs on wellbeing and was involved in freelance impact reporting and a project on green social prescribing. I enjoy keeping active chasing my labradoodle, Nordic walking, cycling, swimming and even rowing. I reside in York with my husband.
---
A Chat with Michelle
Tell us a little bit about you and your journey into behaviour change?
One of the first concepts that I remember learning in tertiary education was the controllable nature of lifestyle risk factors in the prevention and rehabilitation of cardiovascular disease. To me, this realisation really was significant to ensure that I made full potential of my health. I subsequently stopped smoking, made efforts to lose weight, adjusted my nutrition, managed stress and committed to staying physically active. This internalised the drive for me to promote wellbeing, prevent ill health and share knowledge with others as a vocation.
Specialisation in behaviour change was confirmed by my natural talent for psychology and gaining very good results in this subject area. Having lived experience of poor mental health has helped me to understand and manage my own mental health diagnosis of Bipolar Affective Disorder and Complex PTSD. My personal nature connectedness and relationship with wellbeing has been instrumental for my ability to thrive with this condition and has been pivotable to my career choice. The focus of behaviour change has been a natural and seamless transition in my scholastic journey due to delivery of green exercise and sharing the experience and benefits of wellbeing practices with others.
Why does the science of behaviour change matter?
Our planet and nature are in crisis, mental ill health is escalating, and we are enduring a covid pandemic with no sign of easing that is resulting in burgeoning healthcare costs and exacerbating inequalities in our human society. There is a growing evidence base for the use of nature connectedness, green social prescribing and nature-based solutions to tackle these global issues but the implementation of these initiatives must be integrated with behaviour change theories at their core.
What is the most inspiring behaviour change intervention you have come across and why?
I am extremely impressed with the NHS Health Check as a lifestyle intervention. It encompasses motivational interviewing to set person centred SMART goals and covers the spectrum of behaviours including smoking, alcohol intake, physical activity, nutrition, BMI, and cardiovascular markers so that people can make real change to affect and impact their health and wellbeing. It then offers sign posting, advice and educational materials to support this identified change in behaviour need, to facilitate motivation, opportunity, and competence.
What's your vision for behaviour change for the next five years?
To design and develop a nature connectedness and behaviour change intervention that synthesises knowledge adding to the evidence base, which is published and can impact policy and practice.
Why do you like working with HBCL?
I feel passionate about the work that HBCL do, encompassing nature, animal, and human welfare. This role is a practical application of my knowledge of the academic and empirical evidence base and is an opportunity and natural fit of my resources. I believe and am impressed in what HBCL do as an organisation and enjoy being part of a team of likeminded individuals.
Top tip for individuals or organisations getting started with behaviour change?
Internalise motivation, set goals, plan, make a start, review plan, and don't give up!
---
I am excited to work with HBCL to give me the opportunity to be part of a solution to promote wellbeing and welfare!