The start of a new year sparks a time of reflection and planning for most of us. It's a natural punctuation to our busy lives, allowing us to catch our breath before starting the next chapter. As we reflect on our journey in 2022, two themes seemed to have been a constant this year – growth and support.
Growth as an organisation – we launched Human Behaviour Change for Life (HBCL), our new name which now incorporates Human Behaviour Change for Animals (HBCA); grew our core team with some fantastic new members; were joined by a number of new specialist team members; and took on a growing number of projects across different sectors including regenerative farming, animal welfare, sustainability, wellbeing and more.
Support for our clients to deliver change – we provided mentoring and coaching to teams worldwide, helping them to have conversations that create change, even in challenging situations. Other highlights included supporting a feline welfare organisation to utilise systems mapping to understand complex problems, and supporting a farming organisation to truly understand the motivations, perceptions and barriers of the farmers they work with to create messaging that resonated with their community.
---
As we enter the first few days of 2023, you'll probably be thinking about the year ahead, what it might look like for you and what you might want to achieve – but how can we make the most of this moment?
At Human Behaviour Change for Life (HBCL), we use our Understand – Change – Impact (U-C-I) framework in everything we do – and our New Year's reflections are no exception.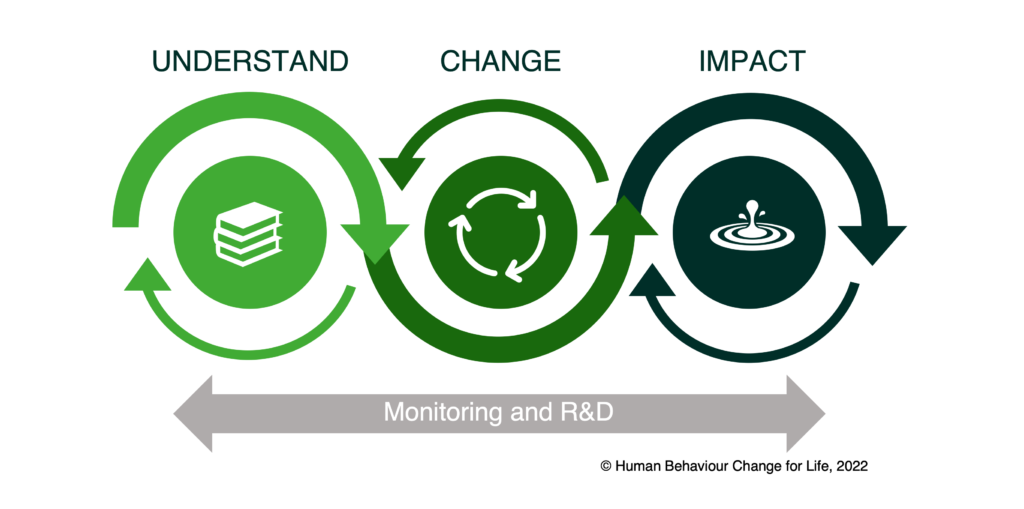 Understanding what worked for us in the previous year, what didn't, and why that was the case is the first step we take. These reflections then help us to look forward, making plans for the year ahead.
There are some great tools from the field of behaviour change science that can help us here; for example, we might use a problem-solution tree to help dive into an area that didn't work so well to find solutions that we want to work on in the new year.
Once we've identified our plans for the year ahead and understood the context around them, we can then start to identify our actions for change.
If we aim to incorporate a new activity into our lives, we might look to the study of habit formation, for example – breaking down an activity into tiny actions or hooking a new activity onto an existing habit.
Finally, how will we know our change will make the desired impact? Setting up a dashboard of measurements and targets will help us to know if we are keeping on track and if our actions are having the desired impact to create the change we are after.
This will be unique to your own plans, but there is a range of monitoring and evaluation tools that can help to identify measures of success. The key is to build a picture of what is working and what isn't, it shouldn't be too laborious, nor capture information you will never use; it should be targeted, easy to use and map the journey of change.
This process is something you can use in your own life when considering personal development goals for the new year, or as a team when looking towards new projects, or even as an organisation as a whole.
The start of a New Year is a great time to create positive change, but without the right things in place, New Year's resolutions and best-laid plans often fall flat after the first few weeks. The HBCL, U-C-I process is just one way in which you can set yourself up for success. HBCL can guide you through this process and others, introducing you to the best evidence-based behavioural science frameworks to use in practice at each step of the way.
We would love to hear what your plans are for 2023 and how we might be able to support you in the coming year, so please do get in touch and let's have a chat.